Bluetooth Low Energy Module (BT5.1)
BDE-BLEM301 is a highly integrated Bluetooth 5.1 Low Energy Module based on Dialog ultra-low power DA14531 SoC.
It comprises a Cortex M0+ MCU, on board Flash memory, Bluetooth 5.1 Low Energy radio, a high efficiency PCB antenna, BT 5.1 stack, profiles and applications in a single module. The module can be used with or without an external MCU. It also offers flexible hardware interfaces for sensor applications. It enables ultra-low power connectivity and data transfer for the applications that are sensitive to power consumption, size and cost.
Key Features
· Bluetooth 5.1 qualified (Bluetooth DID: D050903)
· FCC/CE/RoHS certification
· Integrated high efficiency Antenna
· Supports up to 3 BLE connections
· 16 MHz 32-bit Arm® Cortex® M0+
· Memories: 1Mbit Flash, 48KB RAM, 144KB ROM, 32KB OTP
· Rx current 2mA at 3V
· Tx current 4mA at 3V at 0dBm
· 1.8 uA at sleep with all RAM retained
· Programmable Tx power from -19dBm to +2.2 dBm
· -93 dBm receiver sensitivity
· Quadrature decoder with 3 channels
· 4 channel 11-bit ENOB ADC
· 2 timers with PWM capabilities
· Real Time Clock
· Built in temperature sensor
· Interfaces: 9 GPIOs, SPI, 2xUART, I2C
· Operation: 1.8V - 3.3V, -40°C to +85°C
· Dimensions: 12.5x14.5x2.1 mm
Download
Brief:

BDE-BLEM301_ProductBrief_V1.2.pdf
Datasheet:

BDE-BLEM301_DS_V1.3.pdf

FCC Certificate and Test Report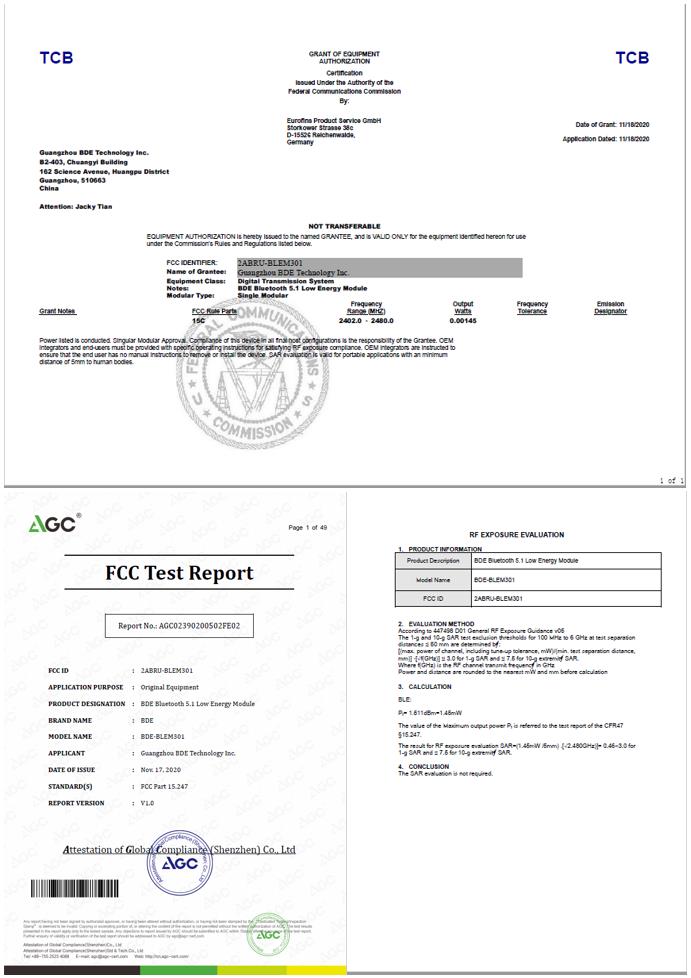 CE Attestation and Reports
Bluetooth Declaration ID and Report